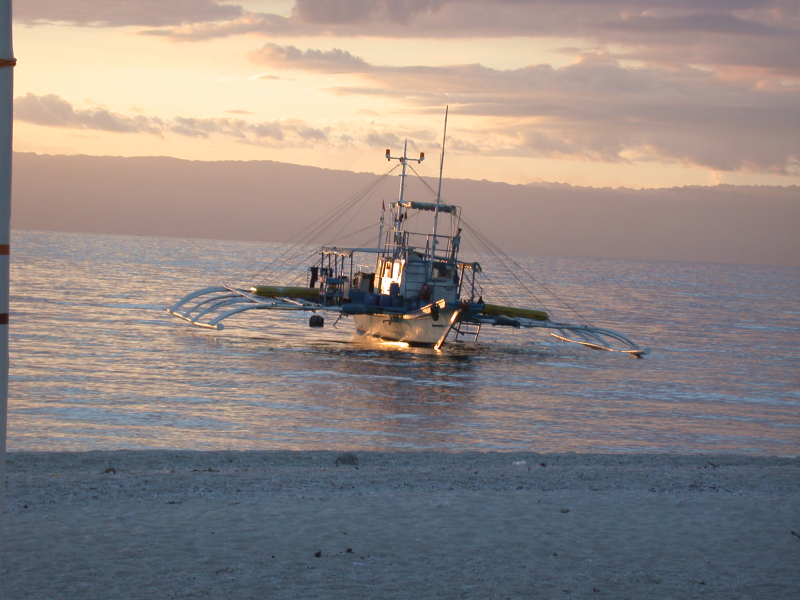 Croisière plongée rustique :-) de 10j dans l'archipel des Visayas.
Vol Nice-Cebu
îles visitées: île de Mactan, CABILAO, TAGBILARAN, BALICASAG, APO, de SIQUIJOR
température Avril-Mai : min-max: 25-32
temp eau: 30
Commentaires
Nous avons adoré l'Ile d'Apo. L'île est belle et les plongées y sont magnifiques : il y a de superbes Jardins de coraux, accessibles en snorkeling (0-5m).
Il faut aller plonger aux Philippines pour les coraux. Ils sont très beaux et facilement visibles (proches de la surface). Ce n'est pas la peine de trop descendre, le plus beau se situe entre 5 et 15-20m. Au delà, la visibilité est beaucoup moins bonne.
CABILAO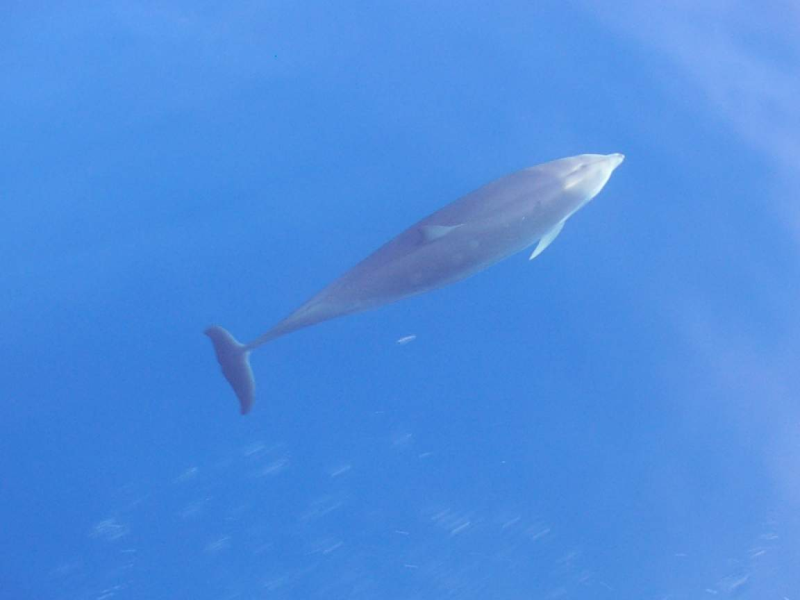 The island has 7,2 sqkm and is situated in the Visayas. The vegetation mainly consists of coconut palms and Bermuda grass. In 5 villages live about 3500 people, who earn their living with fishing, mat making and farming. In spite of their poor living conditions, the locals are merry and friendly. Their life is strongly influenced by Christianity. A walk across the island is highly recommended in daylight because the island is not electrified.
Cabilao Island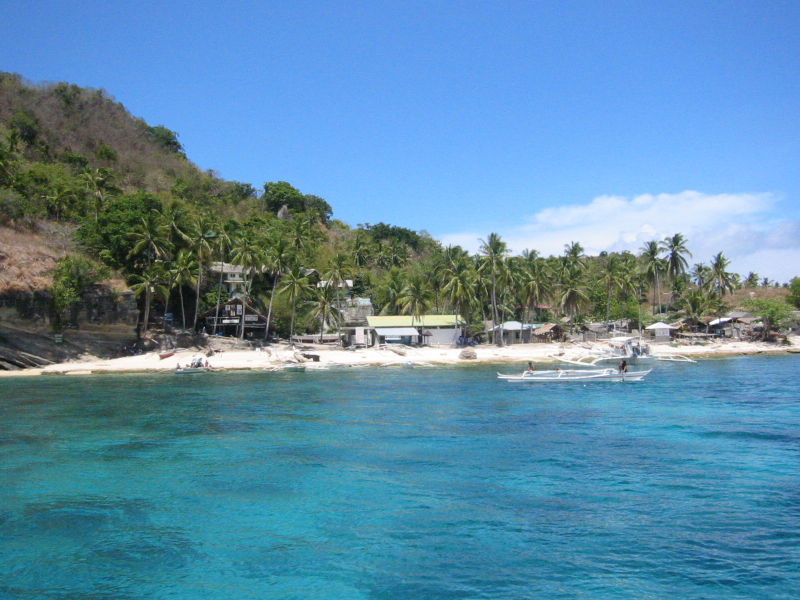 The best Dive Spot in Cabilao, if not one of the best in the Philippines, is the House Reef. The Drop Off is about 50 m off shore and can be explored without a boat
10. Lighthouse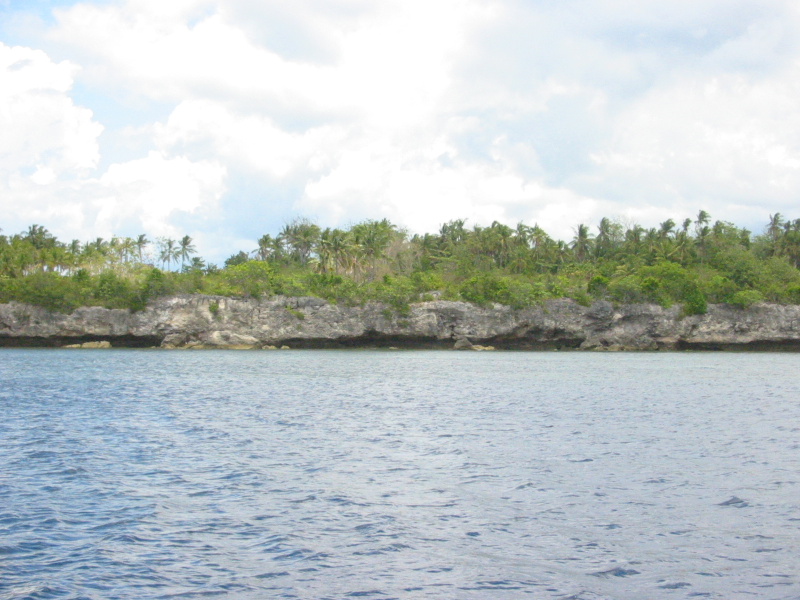 Wall down to 25m, then a plateau at 30m, followed by another wall. Strong currents possible. In winter (Dec. to April) hammerheads and white-tipped reefsharks are possible. In summer they are sometimes seen in deeper areas. Barracuda and jackfish schools. We stayed over a week at Cabilao and enjoyed it immensely. The diveguide Bobet finds all kinds of strange critters: ghostpipefish, pegasus, interesting crabs, seahorses and nudibranchs. Ans ask him to find the pygmy seahorses (Hippocampus bargibanti) for you that live on gorgonian sea fan (Muricella paraplectana)! Make a night dive, it's a special experience! We found devilfish and stonefish a plenty and two stargazer hiding in the sand. Bobet fed a fish to a huge mantis shrimp and it came out of its tunnel to catch his prey.
11. Cambakis Point (Cambaquiz)
This is a very nice dive just in front of the village. Wall down to 30m with a small cave. I liked the sandy part in between the reefs where we found a double-ended and an ornate pipefish. My dive buddy liked the last part best, where we saw a huge school of fish below us.
South point: Steep wall covered with hard and soft corals and many sponges. Large table corals at the reef top. Really beautiful landscape, especially at the top!
Mangrove dive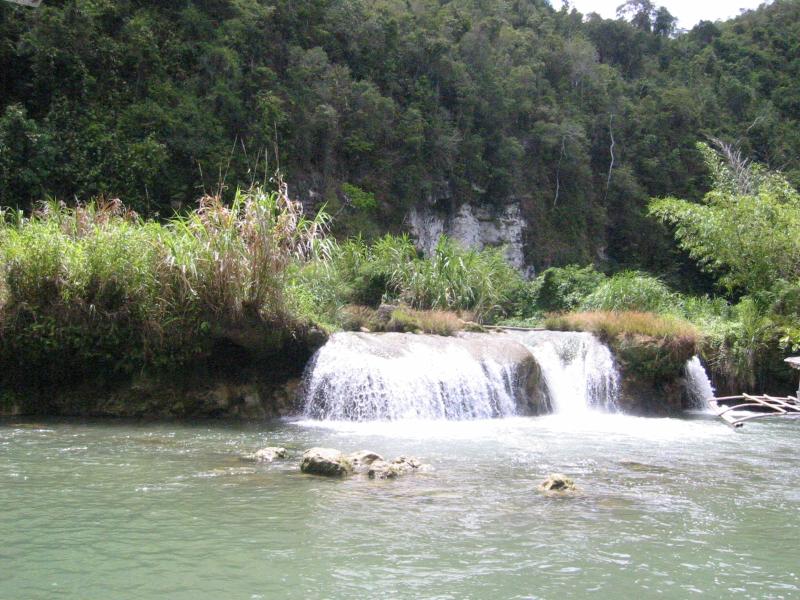 Interesting dives to look at the animals that live in the water under mangrove trees.
BOHOL (Tagbilaran)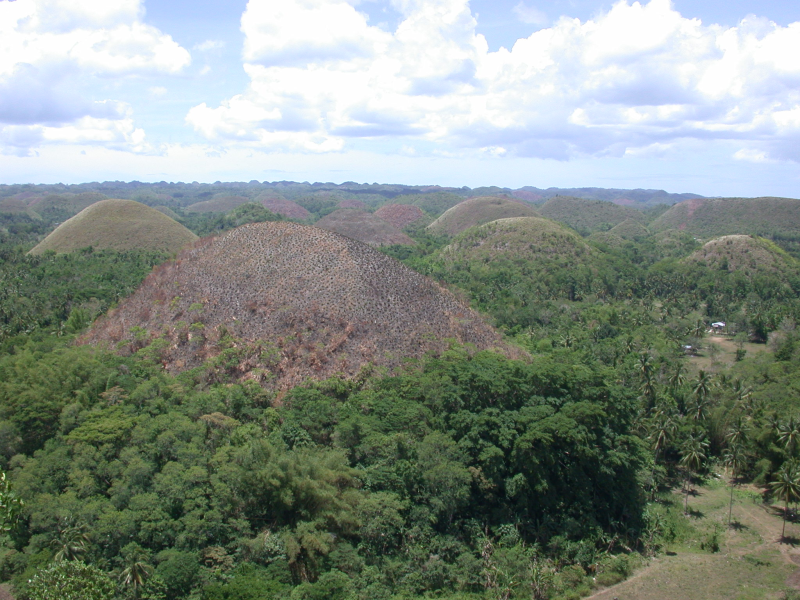 The island of Bohol lies between Cebu and Leyte.
The Chocolate Hills
are Bohol's mayor attraction. More than 1000 hills in number - consisting of thousands of cone-shaped mounds scattered over 50 sq kiliometers around the towns of Sagbayan, Carmen and Sierra Bullones in central Bohol. Each hill rises 30 to 120 metes above the surrounding plateau. The hills look like chocolate drops when the grass turns brown, hence the name. Aslo on top of one is an observation deck 213 concrete steps. In the dry season when the grass is dry, the grass become chocolate coloured, because of that, the name "Chocolate Hills".
The first legend tells of a fight between two giants who threw stones and sand at each other for days, until they were so tired and exhausted they made friends and left the island. They didn´t however, tidy up the battlefield, leaving the Chocolate Hills.
The second legend is a lot more romantic. Arogo, a young and unusually strong giant, fell in love with an ordinary mortal, Aloya. After Aloya´s death, Arogo cried bitterly. The Chocolate Hills are proof of his grief, for his tears turned into hills.
Some geologist, means Bohol lay under water in prehistoric times. Volcanic eruptions caused unevennes in the bottom of the sea which was gradually smoothed and rounded by the movement of the water.
Most serious geologist means the explanation as nonsense. Even though the geological origin of the hills has not yet been explained beyond doubt, the consensus is that they are weathered formations of a kind of marine limestone laying on the top of impermeable clay soil. Comparisons have been made with hundred Islands of North Luzon.
Baclayon Church
7 kilometer southeast of Tagbilaran, is said to be the oldest stone church in the Philippines, built by the Jesuits in 1595. It has a 21 meters high bell tower, intricately carved altars, and an organ wich was installed in 1824.
Corella
Of special interest in the province is the Tarsier, who is the smallest monkey in the world and is found only in Bohol. It is in the the woods around Corella you find the tarsier monkey, which is an endangered species. This tiny primates have extraordinary, immobile eyes and jump from branch to branch with an almost frog-like motion. They are nocturnal hunters and are seldom seen during he day.
In the Barrio Cancatac, abouth four km east of Corella, a few "tarsier" are beein held in a
generously proptioned cage, for study purposes. Visitors are welcome at this project who is run by the Dep. of Enviroment and Natural Resources (DENR)
BALICASAG
Diving
7. Black forest
Slight slope. It is a very nice dive site with black coral bushes (they are actually light green to yellow). You might meet the resident solitary Napoleon and if you are lucky the large school of mackerels or barracudas. Actually on one dive we encountered the mackerels three times, the school moved away to the open ocean several times, but appeared again. The reef-edge is also especially rich in small fish.
8. Balicasag Marine Sanctuary
Steep wall. This site is located on the western side of the island. Schools of jackfish accompany you on your dive, groupers swim below.
9. Heaven
Steep wall, mostly drift-dives. This place has very nice coral and a cathedral-like cave. Sometimes you can see turtles, sharks and Napoleon wrasse.
APO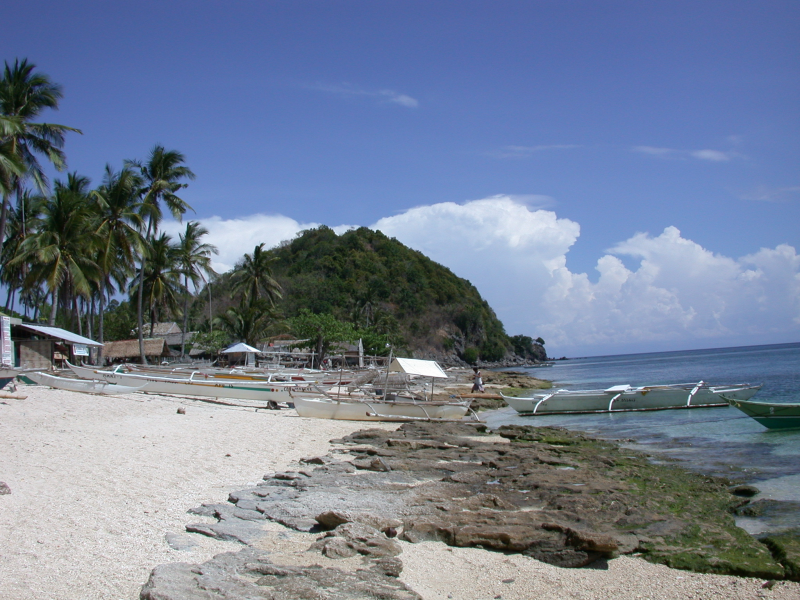 Apo Island is site of the Negros Oriental Marine Conservation Park. Beautiful coral gardens and exciting marine life earn this dive site a world-class rating.
The province of Negros Occidental is located on the western part of Negros Island. It's capital is Bacolod City.
Like other parts of the Visayas, Negros Occidental has beautiful beaches with white sands and offshore coral formations. Nearby island like Llacaon (Lakwon) Island or Inampulugan Island can be best explored by riding a banca, the traditional outrigger boat of the locals.
Diving:
9. Coconut point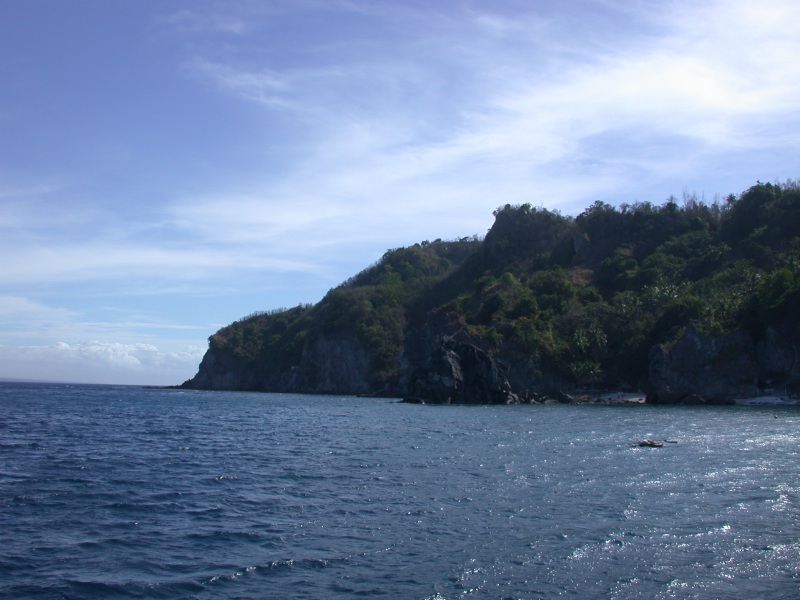 this is usually a deep dive, there is a slope then a very steep wall which goes down to 60m or more. This is quite a challenging dive site. Sometimes there are strong currents, some of them tend to be down-currents, so be careful. At this dive site you can see schools of mackerels (some large like the Spanish mackerel), jackfish, barracudas and if you are lucky sharks. The corals are very nice also, mostly tubecorals.
10. Marine Sanctuary
This is a shallow dive (max. 25m). The flatwater area is a field of corals with small fish. We did a long dive at this place, starting on the wall and ending at the flat part of the reef at the boulders entirely covered with anemone. On the wall I found a black giant frogfish on a coralhead - Jesse the diveguide said, it was the first frogfish he had seen in this area (for frogfish there are some in other dive sites on the coast). The reef flat is very nice, go and have a look at the three boulders ( at 5 meters) with all the anemones and clown fish on them - just amazing.
11. Mansa point
Deep dive on a slope. Currents. This is a place for mantas, eagle rays and sharks. Jackfish, tuna and barracuda schools can be seen up close.
SIQUIJOR
Area: 343 sq km
Population: ca. 100 000 +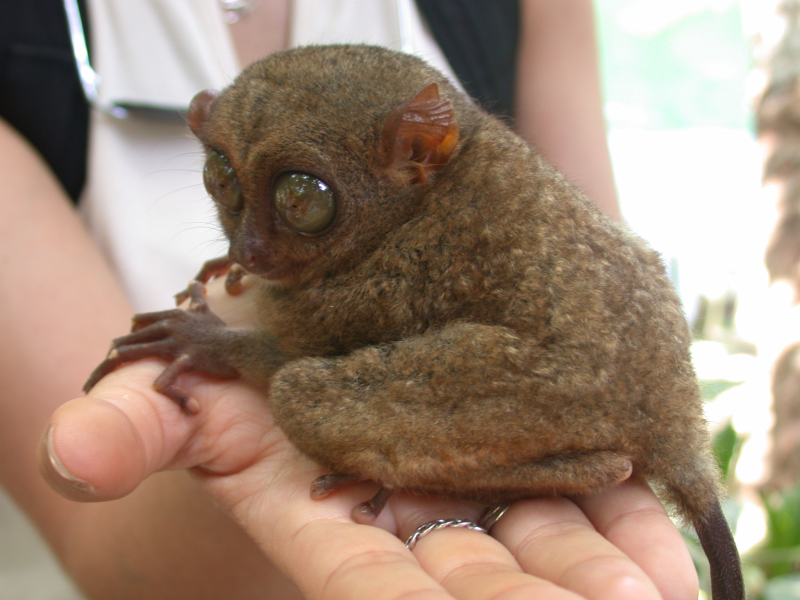 Siquijor is the smallest of the four provinces in Central Visaya. Its towns are on the narrow
floodplains and deltas around the coast. Most of the interior portion of the island is either
hilly or mountainous, rising to a central peak, Mt. Bandilaan, at 557 m.
The largest town in the province are Siquijor, Larena, Enrique Villanueva, Maria, Lazi and San Juan. Siquijor is the capital, and Larena and Lazi have ports with connections to other islands.
The road are surfaced, but encircles this hilly Island with well-kept villages and small towns. They say the economic prosperity of the island is due to a large extent to the money sent back home by Siquijodnons working and living overseas (there is many nice houses beside the road you can see while driving around the island.
Cangbagsa ub Larena has fine white beach with a fresh spring among the rocks.
San Juan also has a white sand beach, off which is a coral ledge fronting a slope.
Near Siquijor town, a flat reef becomes a slope which, at around ten meter, drops off into the deep. Other superb sites for snorkeling and diving are found off Tongo and Sandugan Points.
Close to Camp Bandilaan Mountain is ideal for mountain climbing and nature walks .
Lazi´s St. Isidore Parish Church was built in 1884. Its convent, finished in 1891, is said to be one of the largest and oldest in the Philippines. It have been declared as a national historic landmark.
Cang-Isok House is the oldest house in Siquijor. Built in the mid-1800s, it is located in
barangay Libo, 3 kilometer from the town proper.
St Francis de Assisi Church belltower is located in Siquijor town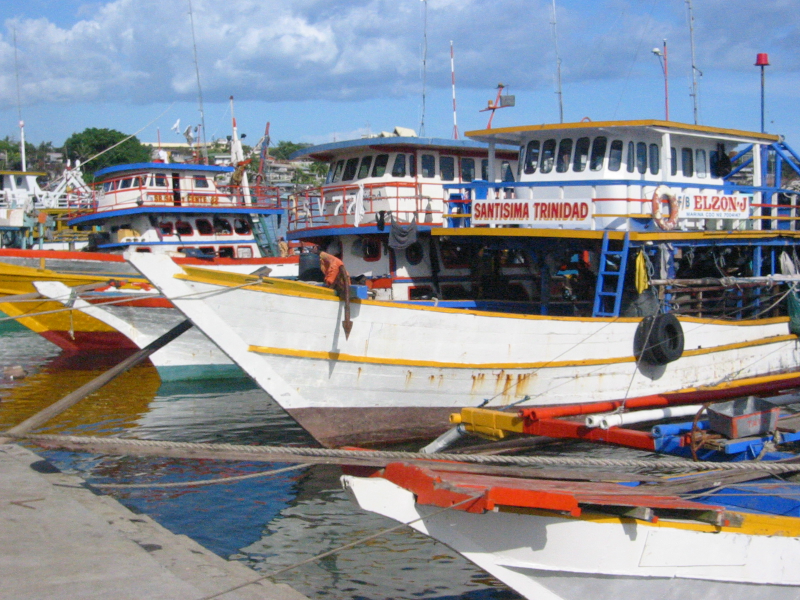 Siquijor is populary known throughout the country for witchcraft which exits in various forms. This is so despite the long presence of Christianity in the island. Its practitioners are
classied as "white" or "black", depending on whether they specialize in healing or harming. During Holy Week, a "Witches Festival" is held at Crocodile Hill overlooking the Bay of Lazi and the Mindanao Sea. When the moon is full, the sorcers gather herbs, roots, and live insects, throw these into a giant cauldron filled with boling water, then sit in a circle around it while mumbling encantations. This is followed by dancing and ends in an exlusive ritual in a secluded cave at dawn.
Caves - is another tourist attractions… When you reach the place of Cantabon - after the
"vodoo-place" San Antonio - you will find many nice and friendly people sitting at the local
"Bodega" - just before you reach the cave. This is also the place where you will meet all the
guides. Cantabon Cave is the most famous cave on Siquijor…
Dive Sites around Siquijor
HOUSEREEF
It is just in front of the Dive Center. It gently slopes from 1 to 2 meters with seagrass and coral blocks then at 12 meters it has a steeper slope with white sand to 35 meters to a large coral block. There you will see lionfish, blue spotted rays, cuttle fish maybe a few harlekin ghost pipefish. An excellent location for scuba diving and open water training in sandy areas.
SANCTUARY
It is just to the east side of the dive center. There, its like large volcanic rock fingers reaching out from the shore. You always want to know what is around the next corner. There you can see a large school of small barracuda, lionfish, nudi branches of many colors, razor fish, clown fish, groupers, and sometimes a sea turtle. All this from 12m to 24m.
LALA-O, SUNKEN ISLAND
This is not even on the charts but you will see lots of fish there. It's 10 min. west of the dive center and it starts at 11 meters and slopes seaward to 16 meters. The depth is beyond 40 meters but if planned well you can make two spirals around it and see everything there. You can see big schools unicorn fish, hunting tunas in the middle of clouds of anchovies, sometimes large barracudas, rays, sea snakes and turtles.
PALITON CAVE
The wall starts at 7 meters and drops down to 35 meters were you will find a cave. Sometimes you will see groupers and copper sweepers there. Along the wall there are eels, nudi branches, lion fish, sea snakes and scorpion fish. Sometimes at the top of the wall you may see large barracudas.
PALITON WALL
On the far west end of Paliton is a spectacular wall of nudi branches, flatworms, eels, scorpion fish, lionfish and large fan corals. You can dive between 20 to 30 meters here and see everything above and below you. Quite often you can find ribbon eels.
Liens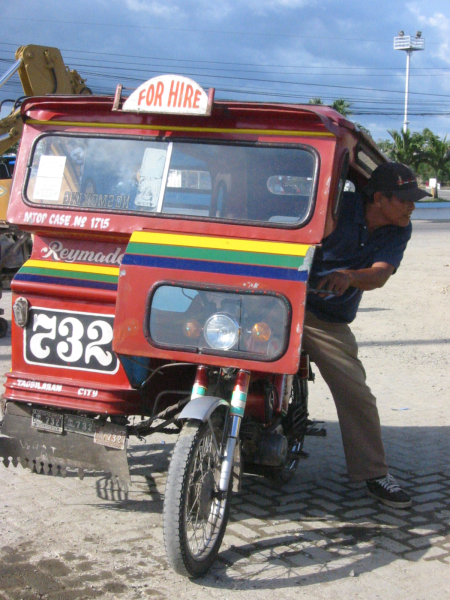 http://www.geocities.com/sofiehofmann/maps/bigmap_visayas.html : map of the Visayas
http://cebu.islandsphilippines.com/ : Cebu islands